Golf Mental Coach
Mental Strength and Self-Confidence in Golfing – Success starts in the mind
An optimized mental attitude, the talent and the physical fitness decide about success or no success. The absolute wish for victory and the control over the own emotions turn the balance.
An increasing number of golf pros and golfers, also hobby players, are getting aware of the importance of the emotional attitude and strength on the golf course and during the tournament and integrate the know-how of mental coaches in their daily programmes.
The work of a golf pro is almost unimaginable without mental training.
Pros become more successful if they combine their technical know-how, intensive training and mental techniques.
Our Training Concept:
The first step: Golf-Mental-Coach Basic
The second step: Golf-Mental-Coach Advanced
The third step: Golf-Mental-Coach Master
During the coaching you will learn how you can mentally train golfers in a targeted and systematic way. You can herewith immediately prepare and tune golfers in an optimal way for golf rounds and tournaments.
The contents is focussed on techniques and methods from the area of sports and emotion psychology, (sports) kinesiology, Brain Gym®, integrative coaching, mental training.
Emotional Freedom Techniques acc. to Gary Craig, Energy Psychology®
Stress management, pedagogy, Wingwave®, EMDR and "Neuro-Linguistic Programming" (NLP). You develop your coaching abilities
Who becomes a golf mental coach?
The trainings offered by us provide a multitude of application possibilities. They include a vast treasure of simple practise-oriented, easily applicable but powerful instruments from the field of NLP, sports psychology, kinesiology, mental and personality training. You can use these instruments for professional purposes as well as for your personal development. No matter whether you see this training as an entry to a totally new profession in the sense of a vocation or a further education measure of your present job. An important aspect: It could happen that the training will set off a development in your life. It is up to you what particular value this coaching will have for you personally at the end of the day and which what kind of intensity and intention you will apply.
The Coaching Training is focussed on:
Golf professionals, golf trainers
Executives
Ambitious golfers, sports persons of all levels, world-class, professional, amateur and hobby golfers,
Team supervisors, youth sports coaches
Doctors and other medical professions, masseurs, physiotherapists
Therapists, coaches, consultants, trainers, business administrators, managers
furthermore the seminar is open for everybody who is interested in it.
Preconditions
Willingness to work on yourself
Openness and curiosity
Personal aptitude to attentively accompany people in processes and show appreciation
Positive idea of man
No previous knowledge is required for the training as a NLP golf coach. If you already have a NLP practitioner or NLP Master certificate, this seminar offers you  an ideal specialisation in the field of sports. The NLP golf coach training combines the practical application of specific NLP modules with new continuative elements for the success in golfing.
Completed training level Coaching BASIS (50 lessons) or an equivalent coaching training
Qualification or Certificate
The participants of the NLP Golf Coach Basic training receive a basic certificate "Golf-Mental Coach NLP Basic" (Heimsoeth Academy) after an active attendance of all training days and the participation in the Coaching Basis seminar. Certification by a written test. The written test is carried out in form of homework and answering questions following the last module of the training.
If you do not intend to receive the certificate, you can also just attend the module "Golf Mental Coach NLP Basic" without visiting the Coaching Basis seminar.
You can work as a self-employed person as a golf mental coach after having obtained this certificate or incorporate your newly gained knowledge in your currently practiced profession.
Contents
In NLP we work on the presumption that every person has all the resources/abilities which he needs. This potential has to be discovered, to be developed and to be made useable. Every person can influence his life positively to become even happier, more successful, concentrated, well-balanced, healthier, more content and fulfilled.
The training is focussed on coaching people.
NLP Basics, basis presumptions of NLP
Positions of perceptions, associations, dissociations, meta
Coaching basics, NLP coaching processes
What is mental training, definition of mental strengths, characteristics  of a mentally strong golfer
Value and strength analysis, strengthen strengths
Relaxation exercises & breathing, breathing exercises
The role and the handling of emotions, stress by fear (e.g. of failure) and  anger, fear management
The meaning of thinking in golfing – the power of thoughts, training of  spiritual power
Definition of long-, medium- and short-term targets, target finding, means of target achievement
Golf course strategy, stroke routine, pre and post shot routine, putt routine, tournament ritual
Mental scripts
Stress factor putting
Improvement/increase of concentration: During a golf round of 18 holes on a
par 72 you walk c. 8 km in c. 4 hours. During this time you always have to concentrate and on a peak level and then let go again. This consumes a lot of energy.
working on your own "building sites"
The attitude is what counts!
The power of inner pictures, visualisation
Inner dialogue, understanding the "inner" game, affirmations, autosuggestions
Strengthening of the "I", trust, self-confidence
Good-bye to self-sabotage, Emotional Freedom Techniques (EFT) acc. to Gary Craig
Acceptance of the own game
more conscious golfing
Achieve more calmness and serenity when golfing
Self-Coaching
Increase of the own self-competence and performance
Brain Gym Exercises
self awareness and own awareness (precondition for coaching), self-knowledge, exercises, discussions
and more good feelings
and much more
(subject to adaptations and changes as required)
Our trainings are carried out in a participant-oriented way. Ideas and wishes of the participants are incorporated in the training.
Mental training is a valuable "accompanying supervision" and finally leads to the targets, many golfers wish for:
to have the potential to improve the handicap
lots of joy and fun in playing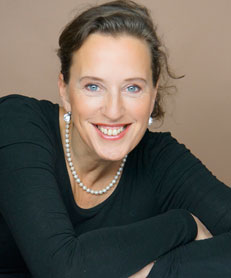 Antje Heimsoeth, born in 1964, is a professional speaker, trainer and coach as well as a consultant. Based on over 10 years of experience as a communications expert, coach, trainer and lecturer, she has developed her own mental coaching concept for athletes, trainers, executives, parents and teams in industry, sport and other professional fields.
LP Master Trainer (DVNLP), NLP-Sport-Upgrade, Certified Practitioner (INLPTA), Teaching Coach & Teaching Trainer (ECA), Teaching Institute of the European Coaching Association (ECA), Coach, DVNLP, Certified Sport Mental Trainer and Certified Sport Mental Coach, Coach of many top athletes, In addition to numerous golfing amateurs of all handicap classes and club teams, I also coach professional golfers including some top players. Even active golf player.
Trainer of the Hildesheimer Gesundheitstraining (Hildesheim Health Training), wingwave® Coach, Kinesiology training, kinesiology in sport, Learning Coach (nlpaed), Training as Life Kinetik® Mental Development Trainer, Communications Trainer and Company Consultant, Business Coach, Golf Fitness Coach, Lecturer at Ansbach University of Applied Science, Speaker of the sports group (DVNLP); speaker of all specialised groups, Dipl. ing. (FH), Finalist GSA Newcomer Casting 2011
Further training measures in the areas of
personality development
Intuition Training
Mental Training, Business Mental Coaching and Training
Hypno-systemic Concepts in Coaching and Organisation Consultancy, Hypno-Coaching
Suggestopedia, "KLIPP und KLAR" learning concept, Brain Gym®
Systemic-kinesiologic Family and Structure Constellations, Constellations with Figures, Integrative Constellations (Bernd Isert)
Non-violent Communication (Marshall Rosenberg), Conflict Solutions
Integrative Coaching
Energetic Coaching (EFT, PU, NAEM, TFT, …), Energetic Psychotherapy / Energy Psychology® according to Fred Gallo
Work-Life-Balance
Provocative Coaching (Frank Farelly)
"PRIME und EVENTURE", Wirtschaftsjunioren (Junior Chamber)
Selling – Selling Conduct
"Ich schaffs!"
Graves Values System Model (GVS)
Zürcher Ressourcenmodell (ZRM®)
Focal Areas:
Integrative and Energetic Coaching
Learning Consultancy Service, Learning Coaching, Brain Gym®, Training for Parents, Learning Seminars for Children and Parents "Teaching and Learning Successfully with NLP"
NLP Training Sessions
Developer and director of many training sessions and specialised learning events
Systemic-kinesiologic constellations with figures, integrative constellations
Sport mental training and coaching, Mental Coaching for Riders, Golf Mental, Football Mental Training, Cadre Training and Individual Mental Coaching – local and national cadres, national team; presence and observation at competitions
Business mental training and coaching for executives and managers
Health training and coaching (individual and in groups), mental health, managers' health
Individual coaching in life crises or in the context of change processes
Outdoor Training (natural rope garden)
Seminars for executives and team training with horses
Markus Köhler, before the seminar  Hcp. 9.1:
"Hello Antje,
Many thanks again for the last two days. It was very pleasant at Pfaffing and your ideas, advice and new ideas were followed by a sleepless night, as reported, and then today during the tournament a 77!!! 6 above PAR. Yuppie!
Have played three birdies and only needed 32 putts. Have integrated "easily into the hole" into my putt routine and always repeat it for myself for my test swing and when addressing the ball. And it works!!
Best wishes,
Markus
(4 days later) – During today's Wednesday tournament I have played a 76 round and improved my handicap from 8,1 to 6,9.. Until hole 14 I was even one below par. Then I unluckily lost a ball and got an 8 on a PAR4. Before the participation in your seminar I would have been totally nervous, but then I just took a deep breath and thanked my little helper for the 13 previous holes and then calmly finished the last 4 holes.
Madness!!!!! Within 3 days an improvement from 9,1 to 6,9!!!!
(less then 2 weeks later) – Today the penny has dropped, I went relaxed, easy going and humming across the golf course and shot a 69 at the Wednesday tournament.
In 4 tournaments following your seminars I have improved myself from 9,1 to 5,1 and it can just go on like that."
Best wishes Markus
Kay Jürgens:
"Dear Antje, I would really like to thank you again for the super days in Rosenheim. These were days when I simply felt bloody good and they went by very quickly….You have aroused something in me and I take that very seriously. You are a super lady, a coach with a high level of expert knowledge, carry on that way. I would like our paths to cross again very soon. I am already looking forward to that.
I would like to wish you many nice golf rounds, good health, luck and maximal success.
Kay"
Peter Zeissler, impulsi:
Hello, the training week continues to have an effect and I am very glad that I was able to spend that time together with Antje. It was a real enrichment and inspiring.
Yesterday was the burner: I whipped my garden into shape in really good weather without a great effort after two weeks of absence, besides that quickly tested an acquaintance kinesiologically for a food intolerance and in the evening I went to the golf course again in the evening. Besides the spontaneous purchase of a trolley I quickly practised a few tee offs.
20 balls, only with a driver. Pre-shot routine, incl. waggle. Target visualized. Added to the swing, incorporated the feeling of "fun", which Antje anchored by tapping, anchoring and future pace. It was so intensive that I probably have appeared as "stupidly grinning" at the tee off for passers by. No matter, success is what counts. Apart from the first few warm up strokes I have placed 15 balls very precisely in the aimed for target area! Simply madness! And what kind of ease and fun it was – simply impressive! The second to last stroke was the best and I only had one ball left. Hit it or not hit it? I was so sure that the last ball would also be that good – and I was right. It was no worse than the second to last – and it was a burner! And all that although a left hander was standing at a distance of 3 m almost face-to-face opposite me and loudly and negatively commented all his strokes.
I am very glad about the result and what is does to me. It is simply nice and very good.
Many thanks and best wishes,
Peter
P.S…I am still sitting in the office and grinning.
Jutta Keller:
"Hello Antje,
I have finally managed to answer the questions for the certificate. Thereby I have noticed again, how much input you have worked on with us and how much additional material was involved. Many thanks for that again. I got a lot out of your seminar and I have already implemented some of my resolutions. It's super how that continues to have an effect.
All the best Jutta Keller"
Dr. Karin Aul, Golf Med Institut, Villach, und Peter Peteln, Sportwart:
"We are very glad that we have decided on a training as a NLP Golf Mental Coach in your institute. The professionalism in your actions is exemplary and has supported us in keeping up our concentration and good mood during the entire period of time. The contents was easy to comprehend and has finally resulted in a clear general view. With this training you can be sure to have a good basis for Sport Mental Coaching. We were also able to benefit from the learnt input and will apply it in our everyday and professional lives. We are already looking forward to the advanced module!"
Klaus Lippemeier, CPC Consulting Partner GmbH:
"Hello Antje, many thanks for all the pictures. I would like to use this opportunity to cordially thank you again for the multitude of impressions and insights I have gained during that week. I increasingly feel much clearer that I am on the right track. I currently have power, power, power and that maybe depends on the intensive training and your extensive training programme? – FUN.I think you have shown me so many new resources that everyday life is easier to handle for me. I have firmly anchored myself. It is not enough just to know it, you also have to actually do it. Therefore, once again many thanks for your authentic way of transferring your vast knowledge.
Best wishes Klaus
P.S. By the way, my golfing is excellent at the moment, everything with a lot of ease."
Dates:
Alle Termine finden Sie hier >>
The training is not subject to VAT. The reduced seminar fee for early payers can only be granted if the transferred fee for the training has been received latest twelve weeks prior to the beginning of the seminar!
The investment includes: seminar beverages, fruit, sweets, very extensive training file, certificate.
Eventual arising costs for accommodation, food, i.e. day fees are born by the individual participants.
Want to know more?
We would be pleased to help you. Just write us an e-mail or give us a call:
Your contact person: Antje Heimsoeth
E-Mail: info@antje-heimsoeth.de
Phone.: + 49 (0) 8031 892969 – Mobile +49 (0) 171 6163194
Maybe you are also interested in…?
The Academy
√ Absolutely practical orientation
√ TOP trainers & speakers
√ One of the most successful academies
Inhouse Training
Inhouse realisation