Certified Training as an NLP-Reit-Coach®, ECA
Sometimes riders are their own worst enemies: Stress, fear, to high expectations or mental blockages prevent them from achieving their equestrian aims. In this training course Antje Heimsoeth addresses all those who want to mediate, to be more concentrated when riding, to overcome their stress and fear better, to control their thoughts and feelings and increase their motivation. Because: In the case of riders of the same standard, mental strength is often the crucial factor which influences the final outcome and resulting line-up at the end of a competition. Without training, the mental qualities alone are obviously of no use. Vice versa, however, it can equally be asserted that, however much a rider trains, he is equally unlikely to succeed without the right mental attitude.
The training course demonstrates a variety of different ways to increase one's own self-confidence. In coaching the rider learns to use resources, to which he had lost all access, so that he can start to enjoy riding again. And thus also be more successful – irrespective of whether in everyday equestrian or professional situations or in a competition at a horse show.
Riding coaching, a new field of activity in equestrian sport
here you have an excellent opportunity to expand your present knowledge and ability in equestrian sport in order to make this a (further) career option for you! And this way you can also improve your self-reflection and contribute to a more appropriate way of handling horses!
If trainers, riding instructors, expert riders, yard owners, professional riders, physiotherapists, … wish to dedicate themselves to professional consultancy, coaching of riders, they should certainly think carefully about training to become an NLP-Reit-Coach® !
With the possibilities and techniques which you learn in the NLP-Reit-Coach® training, you can confront the mental problem subjects such as blockages, disturbances, better feeling in the body and improved sequences of movement, relaxing of tensions, reduction in insecurities, self-doubt and fears of the rider in a helpful and constructive way. I also find it particularly pleasant that all this can happen in a very simple way.
How does an NLP-Reit-Coach® work?
He takes care of adolescents and adults of all ages, individually or in groups, if they cannot manage to take care of themselves in equestrian sport. In this context rapport as well as orientation according to resources and target are perfectly natural principles. The strengths are perceived just as carefully as the requirement for better strategies and attitudes.
As far as the content is concerned, it is a question of techniques and methods from sport and emotional psychology, (sport) kinesiology, Brain Gym®, integrative coaching, mental training, Emotional Freedom Techniques (EFT) according to Gary Craig, Energy Psychology®, stress management, pedagogics, wingwave®, EMDR and "neuro-linguistic programming" (NLP).
Target group:
Horse lovers and horse enthusiasts; horse owners of all levels of training;
equestrian centre proprietors;
trainers, "Pferdewirtschaftsmeister" (persons in managerial positions at equestrian establishments), riding instructors,
osteopaths, physiotherapists; hippotherapists.
All equestrian sport enthusiasts who do not merely see the horse as "material" or "sports equipment" but rather as a living partner.
Riders with blockages, fears and physical tensions;
cadre riders, leisure riders, amateurs, professionals, competition riders, top-class riders;
associations, societies;
coaches, consultants
Pre-requisites:
Willingness to work on oneself
Openness and curiosity
Personal suitability to accompany people in processes in an aware and respectful way
Positive human image, positive attitude to horses
Prior knowledge about horses and ponies is useful but not absolutely necessary
Knowledge of NLP is not necessary!
Completed Coaching BASIS training level (50 lesson hours) or equivalent coaching training
(We reserve the right to make postponements and alterations as required)
Our seminars are oriented very much according to participant requirements: Participants' ideas, expectations and wishes will be integrated in the training.
The inner dialogue, self-discussions (affirmations)
Introduction to NLP
Dealing with stress, (examination) fears, pressure, nervousness, mistakes, failure, crises and setbacks
Visions, work towards targets, setting targets; achieving them – attitude, competence conviction
Motivation training – motivation and motivation techniques
Analysis of strengths and values
Strategies for more inner security and self confidence (at a horse show), strengthening of the ego
Self-regulation
Relaxation; first relaxation exercises and imaginative journeys
Disassociation and association
Perception of one's body and one's self
Self-reflection, self-experience and own experience; strengthening and encouragement of reflection, role and consultancy competence
The power of thought
Significance of the subconscious
Handling of emotions
Body language
Concentration – flow in equestrian sport; alertness
Mental technique training
Development of mental strength – self confidence; successful coaching
Overcoming fear for trainers & and riders
Kinesiological muscle testing
Brain Gym® – integration of right and left halves of the brain
No more self-sabotage!; Emotional Freedom Techniques according to Gary Craig (EFT) – An introduction
Only in Rosenheim – practical part: Duo method (neck strap riding, centered riding, Tellington, …) By means of the DUO method a deep relationship between human being and horse develops, which of course leads to a very authentic partnership. Horses trained according to the DUO method, work with you independently. They can be used in sport as well as in therapy, in games, for dressage in the indoor school, for riding over poles and fences or for relaxed hacks out into the countryside.
Short presentation by participants
Self-coaching
and more good feelings
With regard to everything concerned it is not only a question of conveying theoretical contents but also of a high-quality, personal development which takes place in a pleasant atmosphere, with a lot of fun in learning and in the development process, together with the SportNLPAcademy Team and surrounded by interesting people from your training group.
The nature of the work in this seminar is very practical. It therefore makes good sense to write down your own themes which you would like to work on beforehand, and to think consciously about them.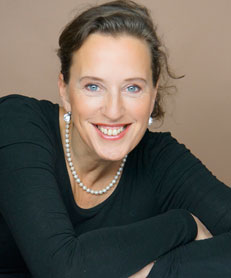 Antje Heimsoeth, born in 1964, is a professional speaker, trainer and coach as well as a consultant. Based on over 10 years of experience as a communications expert, coach, trainer and lecturer, she has developed her own mental coaching concept for athletes, trainers, executives, parents and teams in industry, sport and other professional fields.
LP Master Trainer (DVNLP), NLP-Sport-Upgrade, Certified Practitioner (INLPTA), Teaching Coach & Teaching Trainer (ECA), Teaching Institute of the European Coaching Association (ECA), Coach, DVNLP, Certified Sport Mental Trainer and Certified Sport Mental Coach, Coach of many top athletes, In addition to numerous golfing amateurs of all handicap classes and club teams, I also coach professional golfers including some top players. Even active golf player.
Trainer of the Hildesheimer Gesundheitstraining (Hildesheim Health Training), wingwave® Coach, Kinesiology training, kinesiology in sport, Learning Coach (nlpaed), Training as Life Kinetik® Mental Development Trainer, Communications Trainer and Company Consultant, Business Coach, Golf Fitness Coach, Lecturer at Ansbach University of Applied Science, Speaker of the sports group (DVNLP); speaker of all specialised groups, Dipl. ing. (FH), Finalist GSA Newcomer Casting 2011
Further training measures in the areas of
personality development
Intuition Training
Mental Training, Business Mental Coaching and Training
Hypno-systemic Concepts in Coaching and Organisation Consultancy, Hypno-Coaching
Suggestopedia, "KLIPP und KLAR" learning concept, Brain Gym®
Systemic-kinesiologic Family and Structure Constellations, Constellations with Figures, Integrative Constellations (Bernd Isert)
Non-violent Communication (Marshall Rosenberg), Conflict Solutions
Integrative Coaching
Energetic Coaching (EFT, PU, NAEM, TFT, …), Energetic Psychotherapy / Energy Psychology® according to Fred Gallo
Work-Life-Balance
Provocative Coaching (Frank Farelly)
"PRIME und EVENTURE", Wirtschaftsjunioren (Junior Chamber)
Selling – Selling Conduct
"Ich schaffs!"
Graves Values System Model (GVS)
Zürcher Ressourcenmodell (ZRM®)
Focal Areas:
Integrative and Energetic Coaching
Learning Consultancy Service, Learning Coaching, Brain Gym®, Training for Parents, Learning Seminars for Children and Parents "Teaching and Learning Successfully with NLP"
NLP Training Sessions
Developer and director of many training sessions and specialised learning events
Systemic-kinesiologic constellations with figures, integrative constellations
Sport mental training and coaching, Mental Coaching for Riders, Golf Mental, Football Mental Training, Cadre Training and Individual Mental Coaching – local and national cadres, national team; presence and observation at competitions
Business mental training and coaching for executives and managers
Health training and coaching (individual and in groups), mental health, managers' health
Individual coaching in life crises or in the context of change processes
Outdoor Training (natural rope garden)
Seminars for executives and team training with horses
Sabine Zelewski, cert. Training as a Sport Mental Coach, ECA cert. Training as an NLP-Reit-Coach® Basic in Rosenheim, July 2009:
"I really had no idea what to expect in the training. I approached it without really imagining what was going to happen and in the end I was all the more enthusiastic! In the first place I was positively surprised about what one learned about oneself and one's actions and reactions in particular situations. In the first place it was super positive for me to be able to look at my own "building sites" and have an opportunity to work on them. This is the only way to make progress and pass on your experience.
Today my motto is: Let go of the old to make way for the new!
So once again, a big thank you from me for my positive personal development!"
Katja Bettendorf, NLP-Reit-Coach® Basic Training, Wiesenhof 2008/2009:
What most impressed me in the course and made a lasting impression on me is the fact that we have everything inside us which we need, and this is a source which everyone has. Everyone has a past, a filter, experiences and the fact that in your coaching you placed so much emphasis on re-activating this resource appealed to me very much. Above all, the fact that the clients work out their own way themselves – one which is practical for them. Because this is the only way which works – I found that great and it reflects the value which coaching acquires for the person concerned. In this way everyone creates the tools which they will use later on."
Dates:
Voraussetzung für die Zertifizierung zum NLP-Reit-Coach® Basic: Teilnahme am Coaching Basis Seminar. Investition: EUR 799,-. Termine finden Sie hier
Alle Termine finden Sie hier >>
Die Ausbildungen sind von der Mehrwertsteuer befreit.
In der Investition enthalten: Seminargetränke, Obst, Süßigkeiten; sehr ausführlicher und umfangreicher Ausbildungsordner
Eventuell anfallende Kosten für Übernachtung, Tagungspauschalen und Verpflegung werden von den Teilnehmern individuell getragen. Übernachtungskosten und Tagungspauschalen der Seminarhäuser werden direkt mit den Häusern abgerechnet.
Qualification and certification
The participants of the NLP-Reit-Coach® Basis Training receive the "NLP-Reit-Coach® Basic" (SportNLPAcademy) certificate following active participation in all modules (any sections missed on account of illness etc can be caught up on during the next course of training) and in the working groups, giving a short presentation, submission of five recorded case studies, of an essay about pacing & leading, extensive study of relevant literature, submission of a target collage, submission of a handout relating to the short presentation (participant gets feedback about presentation) and a coaching concept.

The further training complies with the guidelines of the ECA (European Coaching Association). Participants who complete the training have the possibility, providing they fulfil additional criteria stipulated by ECA, of being awarded a licence as a professional coach. Pre-requisites for the ECA certificate (European Coaching Association) are available on request.
The certificate authorises you to work on the market independently as a coach, or alternatively you can apply the knowledge you gain in your current profession.
Want to know more?
We would be pleased to help you.
Just write us an e-mail or give us a call:
Your contact person: Antje Heimsoeth
info@antje-heimsoeth.de or Tel.: + 49 (0) 8031 892969
Und wie geht es nach dem NLP-Reit-Coach® Basic weiter?
Wenn Sie weitermachen möchten, erweitern Sie Ihre Kompetenzen um den
The Academy
√ Absolutely practical orientation
√ TOP trainers & speakers
√ One of the most successful academies since 2003
Inhouse Training
Inhouse realisation
Recognised Educational Institute
The Heimsoeth Academy is an educational institute which is officially recognised by Upper Bavaria's government.