Spezial-Workshop – Fear-free Riding
How does that appeal? Fear-free riding!
Fear is completely normal, natural, harmless and sometimes important for survival. Every living creature has its own natural protective mechanisms. This also applies with regard to human beings. One of these protective mechanisms is fear. Every human being has his own feelings of fear; they are a part of him, just like his finger prints. The "fear reaction" goes back to the very early days of our development history. At that time it was necessary to react extremely quickly whenever there was the threat of danger or attack, either by fleeing or by launching an attack. Sometimes such reactions are still necessary today.
In the context of sport, however, fear can lose its normal protective function and become a prime enemy. When a competitor has a blockage at the decisive moment or commits an inexplicable blunder, the cause is very often fear-related. Unfortunately far too many riders simply accept fear as an unavoidable factor within the scope of sporting experience. How do you react when you are in the process of winning but then allow fear to deprive you of that attractive result – and then you have to simply stand by and watch passively as the prize is presented to a competitor? Do you simply shrug your shoulders and hope that it will never happen again, or do you decide to undertake some measures to combat it?
Fear can have many causes – and sometimes we cannot even understand them ourselves – but we feel its presence and are numbed in our thoughts and actions. Horses, as animals of flight, are very sensitive with regard to this subject and react accordingly to us and our fear.
In this seminar I would like to help you to work on this blockage between you and your horse. Together we want to try to dissipate the blockage, to create a new sense of trust between you and your horse.
Give yourselves the opportunity to establish a relationship of trust. Have confidence in yourself and in your horse.
Aims:
Relaxed riding with a lot more pleasure and fun
Faster learning and greater progress with your riding
Act in a self-determined way because fear represents a possibility for self-determination
Consider fear as a friend who can tell you a lot about yourself
Ability to act
Affectionate dealings with oneself
Target group:
Riding instructors, trainers, business trainers, instructors, youth workers; hobby and amateur riders, leisure riders, professionals, competition riders at all levels of training, world-class riders; horse owners; riding centre and pony farm proprietors; adolescents; riders with fears, blockages and physical tensions (e.g. after a fall); beginners; riders who lack confidence, people taking up riding again, coaches; furthermore this seminar is open to all interested parties.
Changes begin in the head!
Expectations
To find and to change restricting doctrines
What is fear, dread and anxiety?
Fear of tests and examinations
Needs
The positive aspects of fear
Fear as a signal to think more carefully
Methods / mental techniques to free yourself of fear, solution strategies
Emotional Freedom Techniques (EFT)
Definition of personal aims, visions, obstacles between you and your aim; motivation
The inner dialogue, affirmations
Visualisation
Self-coaching, methods for continuing the work
Discussions and exchanges in a plenary setting
The courses offered here are intended to provide you with fundamental and specific methods of procedure in the application of fear-control techniques and methods e.g. in connection with tapping on acupressure points and neuro linguistic programming (NLP). In this workshop you will receive sufficient opportunity to work on your personal problems in relation to these symptoms and you will also have a chance to ask questions and practice these methods in small groups.
Even without a horse, you will benefit from this workshop. Immediately after the workshop you will also have a chance to put what you have learned into practice with Maria Emmerling-Koslowsky.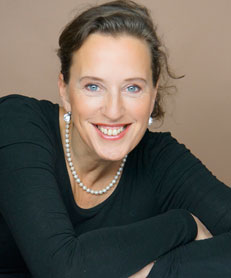 Antje Heimsoeth, born in 1964, is a professional speaker, trainer and coach as well as a consultant. Based on over 10 years of experience as a communications expert, coach, trainer and lecturer, she has developed her own mental coaching concept for athletes, trainers, executives, parents and teams in industry, sport and other professional fields.
LP Master Trainer (DVNLP), NLP-Sport-Upgrade, Certified Practitioner (INLPTA), Teaching Coach & Teaching Trainer (ECA), Teaching Institute of the European Coaching Association (ECA), Coach, DVNLP, Certified Sport Mental Trainer and Certified Sport Mental Coach, Coach of many top athletes, In addition to numerous golfing amateurs of all handicap classes and club teams, I also coach professional golfers including some top players. Even active golf player.
Trainer of the Hildesheimer Gesundheitstraining (Hildesheim Health Training), wingwave® Coach, Kinesiology training, kinesiology in sport, Learning Coach (nlpaed), Training as Life Kinetik® Mental Development Trainer, Communications Trainer and Company Consultant, Business Coach, Golf Fitness Coach, Lecturer at Ansbach University of Applied Science, Speaker of the sports group (DVNLP); speaker of all specialised groups, Dipl. ing. (FH), Finalist GSA Newcomer Casting 2011
Further training measures in the areas of
personality development
Intuition Training
Mental Training, Business Mental Coaching and Training
Hypno-systemic Concepts in Coaching and Organisation Consultancy, Hypno-Coaching
Suggestopedia, "KLIPP und KLAR" learning concept, Brain Gym®
Systemic-kinesiologic Family and Structure Constellations, Constellations with Figures, Integrative Constellations (Bernd Isert)
Non-violent Communication (Marshall Rosenberg), Conflict Solutions
Integrative Coaching
Energetic Coaching (EFT, PU, NAEM, TFT, …), Energetic Psychotherapy / Energy Psychology® according to Fred Gallo
Work-Life-Balance
Provocative Coaching (Frank Farelly)
"PRIME und EVENTURE", Wirtschaftsjunioren (Junior Chamber)
Selling – Selling Conduct
"Ich schaffs!"
Graves Values System Model (GVS)
Zürcher Ressourcenmodell (ZRM®)
Focal Areas:
Integrative and Energetic Coaching
Learning Consultancy Service, Learning Coaching, Brain Gym®, Training for Parents, Learning Seminars for Children and Parents "Teaching and Learning Successfully with NLP"
NLP Training Sessions
Developer and director of many training sessions and specialised learning events
Systemic-kinesiologic constellations with figures, integrative constellations
Sport mental training and coaching, Mental Coaching for Riders, Golf Mental, Football Mental Training, Cadre Training and Individual Mental Coaching – local and national cadres, national team; presence and observation at competitions
Business mental training and coaching for executives and managers
Health training and coaching (individual and in groups), mental health, managers' health
Individual coaching in life crises or in the context of change processes
Outdoor Training (natural rope garden)
Seminars for executives and team training with horses
Dates:
Alle Termine finden Sie hier >>
Darin enthalten: Seminargetränke, Handout, incl. 19% MwSt.
Eventuell anfallende Kosten für Übernachtung, Tagungspauschalen und Verpflegung werden
von den Teilnehmern individuell getragen.
As in my experience, each seminar involves new perspectives and revelations, I offer participants who would like to repeat the seminar the opportunity to do this for 50% of the full seminar fee.
Certificate of participation:
On conclusion of the seminar, participants will receive a certificate.
Want to know more?
We would be pleased to help you.
Just write us an e-mail or give us a call:
Your contact person: Antje Heimsoeth
info@antje-heimsoeth.de or Tel.: + 49 (0) 8031 892969
Maybe you are also interested in …?
The Academy
√ Absolutely practical orientation
√ TOP trainers & speakers
√ One of the most successful academies
Inhouse Training
Inhouse realisation